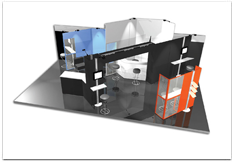 STAND CONSTRUCTION RULES


* Exhibitors with "special stand construction" need to contact HKF – Technical Department 2 months before the fair opening for the approval in the venue.

* Exhibitors can build- up the stands 3 days before the show date and need to finish the night before the show begins.

* Exhibitors are requested to move all show materials and dismantle the stands on closure day between 19:00 – 21:00 hrs. The special stands can be dismantled till 22:00 hrs. one day after show closing.

EXTRA SERVICES

HKF Trade Fairs – Project Team can help you by providing extra services (extra lighting, special promotion and sponsoring, hostess and translator, logistic and equipments, catering, communication, accommodation etc.).

For detailed information please download the Exhibitor Manual.